Automate the Repetitive Tasks and
Attend to More Customers
C
l
o
u
d
-
b
a
s
e
d
P
B
X
&
I
V
R
S
y
s
t
e
m
f
o
r
B
u
s
i
n
e
s
s
e
s
Claim Your 15-Day Free Trial Now. No CC required
What's Inside?
LOCAL & TOLL-FREE NUMBERS
Get a professional business phone number; add unlimited toll-free and local numbers for any city, state, or country.
INTERACTIVE VOICE RESPONSE
Play a custom greeting and offer a menu for your callers to choose from based on their needs.
MOBILE PBX
Use your phone, tablet, or computer to make and receive business calls from anywhere.
CALL ROUTING
Decide where each call; complain, inquiry goes to – a cellphone, team member, or department.
CALL RECORDING
Record every single call made or received by your employees; sales team, customer support, etc.
CONTACT LIST
Store and manage unlimited contacts in one place and access them from any device at any time.
FREE HOSTING
You won't pay a penny for *bandwidth or *storage. Enjoy cloud storage.
Available in United States and 81 other countries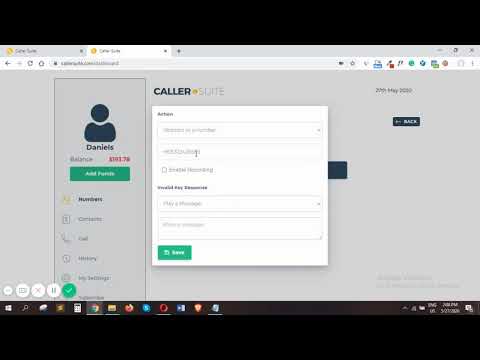 Never Use Your Personal Number for Business
If you want anybody to take you serious, then you should never put personal phone numbers on your website or business card unless you're selling homemade cupcakes to your family and friends with no plans of expanding. Every serious entrepreneur knows the importance of a professional business number.
Got questions?
We've got the answers:
An IVR is an acronym for Interactive Voice Response. The IVR system allows you to play prerecorded greetings and voice commands when your clients call your number.
No, you don't need additional hardware unless you want to. Everything can be done from Caller Suite's dashboard – phone calls, IVR setup, phone number acquisition, contact management, etc.
Yes, you absolutely can upload a prerecorded welcome message with instructions and have it play when a client calls.
Yes, you can make phone calls from your Caller Suite Dashboard using a local or toll-free number for pennies on the dollar.
CONTACT US
Questions? Suggestions? We would love to hear from you.
Don't hesitate to reach out.