Buy a Business Phone Number in 3 Minutes
G
e
t
L
o
c
a
l
a
n
d
T
o
l
l
-
f
r
e
e
N
u
m
b
e
r
s
i
n
t
h
e
U
S
,
U
K
,
a
n
d
1
5
0
+
C
o
u
n
t
r
i
e
s
Plus Hosted PBX and IVR for Call Routing, Forwarding, and Recording
Voice
Fax
SMS
$2.10 / mo
Outbound -
 $0.0137 / min |
 Inbound -
 $0.0231 / min
Additional Features
Get a professional business phone number – toll-free or local phone numbers for any city/state in the US, UK, and 150+ countries around the world plus additional features that include:
INTERACTIVE VOICE RESPONSE (IVR)
Decide what your customers hear when they call your business. Play a custom greeting and guide callers on what buttons to press in order to reach the relevant department.
MOBILE PBX
Create a mobile office by using your phone, tablet, or computer to make and receive business calls from anywhere at any time. Don't wait to get to the office to close a deal.
CALL ROUTING
Decide where each call, complaint, inquiry goes to – a cellphone, team member, or department. Make your staff to only answer calls in their area of specialty.
CALL RECORDING
Record every single call made or received by your employees; sales team, customer support, etc. You can use these recordings to monitor employee performance and for training purposes.
CONTACT LIST
You can use Caller Suite as a mini-CRM to store and manage unlimited contacts in one place and access them from any device at any time.
FREE HOSTING
You won't pay a penny for *bandwidth or *storage. Enjoy cloud storage for your call history, recordings, contacts, and voicemails.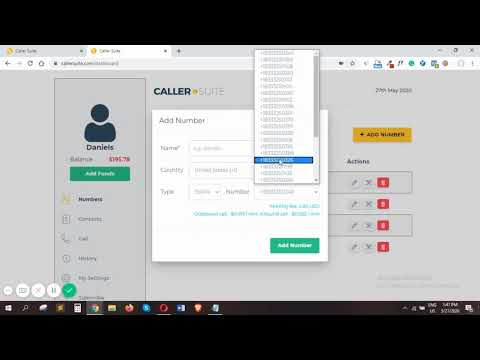 How to Buy a Phone Number
Step 1:
Sign Up for a Caller Suite account and login to your dashboard
Step 2:
Go to "Numbers" and click on "Add a Number"
Step 3:
Select the country, state, and area code You want a number from, and you're done!
Local vs. Toll-Free Numbers – What's Best for Business?
Local numbers or Toll-free? What's best for businesses? There isn't a one-size-fits-all answer, so, a better question would be – which one is better for MY business?

If you're based in a local community with no plans to expand nationally or internationally in the near future, then a local phone number would work just fine for you. Your targeted audience would see you as a local business in their area which is more appealing.

On the other hand, if you're a big business or have plans of expanding to a larger customer base, then a toll-free number would work best for you. Your business' customer base is a lot more diverse and requires a simple, easily accessible and free phone number to establish communications.

You can learn more about choosing between a local and a toll-free number here.
Why You Need a Phone Number
Credibility forms the foundation of any business. You could have the most innovative idea on the market, but the lack of professionalism in your marketing and operating strategy is what can set you back.

What you need to do is brand your business with professional elements – one of which is a business phone number.

A business number gives you privacy and also allows you to set your working hours so that customers aren't calling you at ungodly hours.

Having a business phone number from Caller Suite with call recording features allows you to revisit calls and analyze customer-related data much more proficiently. Therefore, it is easier for businesses to create contact lists of customers who have called in.

You can learn more about the benefits of having a business phone number here.
What is a Virtual Phone Number?
Virtual phone numbers or direct inward dialing numbers make use of the internet to make and receive calls, rather than being connected to a cell tower or phone company. Since this service relies on the internet, it is possible to make and receive calls using different devices that have an internet connection. You can buy a virtual business number in any city, state, or country using Caller Suite.
Buy a Mobile Landline Number to Mask Your Caller ID
Click the button below to choose a number with a "specific area code" – get a number in the exact area your business is located.
CONTACT US
Questions? Suggestions? We would love to hear from you.
Don't hesitate to reach out.